Advance Programme on Digital & Social Media Marketing Strategy

About This Course
Programme Description
The programme would focus on providing in-depth and hands-on knowledge on digital and social media marketing and analytics strategy that would help in planning, implementing and measuring the digital and social media marketing activities to create awareness, and ultimately drive sales.
The programme has been designed to provide a foundation for marketers who want to specialize in the digital and social media marketing strategies, or those wanting to broaden their understanding in this domain. This six months certificate programme from IIM Calcutta would hone the general management skills followed by deep diving into the basic and advanced modules of marketing in the social and digital media platforms. The course will focus on sharing the latest trends, best practices and technologies for effective digital and social media marketing. The programme focuses on marketing strategy and digital strategy and builds on the three pillars of traditional marketing analytics, search marketing and social media listening and analytics. The faculty will focus on the synergy between on-field practice, digital and social media simulations and in-class learning.
Programme Director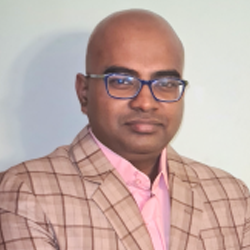 Prof. Saravana Jaikumar
Who Should Attend/target Segment
This programme will be of interest to an executive or a manager from marketing, product / brand, and sales functions or a marketing analyst or business owner, who is planning to implement digital and social media marketing strategy to create brand awareness, enhance brand recall, generate leads and enhance customer experience. Managers from other functional areas or a non-marketing background with a supporting role for organization's marketing activities would also find the programme relevant.
Pedagogy
The programme will be highly experiential and interactive, comprising group-based or individual participant presentations and discussions, case studies, classroom lectures, simulations and presentations by experts from academia as well as industry.
Programme Directors/faculty:
Prof. Saravana Jaikumar is currently a faculty with the Marketing Group at IIM Calcutta. During his tenure, he has developed and served as the incumbent director for analytics and digital marketing programmes for executives. His research work is primarily in the nexus of public policy, development and marketing. His teaching focus is on marketing analytics, artificial intelligence and machine learning applications, and digital marketing. He has authored several papers in journals of international repute including Journal of Advertising Research, Journal of Business Research, Marketing Letters, International Journal of Information Management, Information Management Frontiers, and Journal of Product and Brand Management. His research work has been cited in several policy documents including Economic Survey of India and United States Library of Congress Foreign Digital Materials. He has won several research awards including the Outstanding Research on Development by Global Development Network. He holds BE (Mech, PSG Tech), MBA (Gold Medalist, Cardiff Business School, UK) and Ph.D. (IIM Ahmedabad). He can be contacted at: saravana@iimcal.ac.in and https://www.iimcal.ac.in/users/saravana
Industry Experts
Mr. Laxmi Narayanan – Polestar
MS. Hina Bhakt – MD – EVOPS Marketing, UAE
Mr. Amit Yadhav – Head of Marketing – Kashkha
Dr. Jitesh Kumar – Deloitte, UAE
Programme Duration & Delivery
6 months duration in person session.
The programme will be of 75 hours duration with an approximate contact of maximum 6 hours per day.
Programme Modules:
Programme Structure (APDSMMS)
The structure of the programme is as following:
| Module 1 | Module 2 | Module 3 |
| --- | --- | --- |
| Introduction – Traditional vs. Digital Marketing | Emerging Trends in MENA | Principles of A/B Testing |
| Marketing and Core Values in Digital World | Content Marketing and Strategy | Search Engine Marketing – Analytics |
| Search Engine Marketing and Keyword Analysis | Social Media Marketing Strategy | Branding and Social Media |
| Paid Search Marketing | Web Analytics and Competitor Intelligence – Tools and Strategy | Social Media Marketing |
| Module 4 | Module 5 | Module 6 |
| --- | --- | --- |
| Online Marketplaces in the UAE | Industry Best Practices and Case Studies in Digital Marketing | Educating Consumers: Leveraging the Power of Social Media |
| Facebook and Instagram Advertising | Social Media Marketing Analytics | Discussion on Search Engine and Social Media Activities and Key Takeaways |
| YouTube and Influencer Marketing | Pricing in the Digital World | Tying it together: Digital and Social Media Marketing Strategy |
| Retargeting and Remarketing Strategies | Web Design Principles | Conclusion |

Certification
On successful completion of the programme, the participants will be awarded certificate of participation by IIM Calcutta.
Duration
Six Months
Eligibility
At least a Graduate degree with minimum 50% marks, and at least 2 years of experience in media, advertising, start-ups, social or digital media, e-commerce or related domains.
How To Enroll
Interested candidates are requested to submit the completed application and all required documents at the stipulated time, in order to prepare the application for review by the Admissions Committee. IIM Calcutta and Academia team reserve the right to foreclose applications depending upon exhaustion of seats.
You may fill in the application form (sent by email) and email us or submit it in person at our office.
Notification Of Acceptence
The Admissions Committee will review applications and qualified candidates are informed and admitted on a rolling, space-available basis. Once the review process has begun, applicants are notified within minimum time period via email regarding Admissions Committee decisions.
Your Instructors